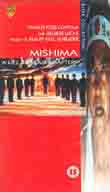 Directed by Paul Schrader.
Written by Paul Schrader, Leonard Schrader and Chieko Schrader.
Executive Produced by George Lucas and Francis Ford Coppola.
Produced by Mata Yamamoto and Tom Luddy.
A stylized account in four segments of the life of Japan's celebrated twentieth-century author Yukio Mishima. Three of the segments parallel the powerful events in Mishima's life with his previous "rehearsals" in his novels (The Temple of the Golden Pavilion, Kyoko's House, and Runaway Horses), while the fourth depicts November 25,1970, "The Last Day".
Tokyo Press Conference: Mata Yamamoto, Leonard Schrader, Paul Schrader, Tom Luddy, Francis Coppola

Chieko Schrader working with Paul and Ogata.


Runaway Horses


Temple of the Golden Pavillion


Video Poster


Greek Poster


British VHS


USA VHS


USA DVD


French Poster