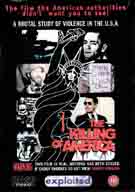 Directed by Sheldon Renan and (uncredited) Leonard Schrader
Written by Leonard Schrader and Chieko Schrader.
Produced by Leonard Schrader and Mata Yamamoto.
A documentary about the radical rise in the American murder rate after the assassination of JFK. It features a lot of great exclusive footage from race riots to serial killers and much-much more.
Not available commercially in the US
Featuring:
Kenneth Bianchi
Lawrence Bittaker
Richard Bremer
Ted Bundy
President Ford
Squeaky Fromme
John Gacy
Wayne Henley
John Hinckley
James R. Hoskins
Reverend Jim Jones
Ed Kemper


President Kennedy
Robert Kennedy
John Lennon
Charles Manson
Sara Jane Moore
Lee Harvey Oswald
President Reagan
Jack Ruby
Brenda Spencer
Sirhan Sirhan
Governor Wallace




BRITISH




DUTCH




AUSTRALIAN


GREEK VHS


Mexican Poster